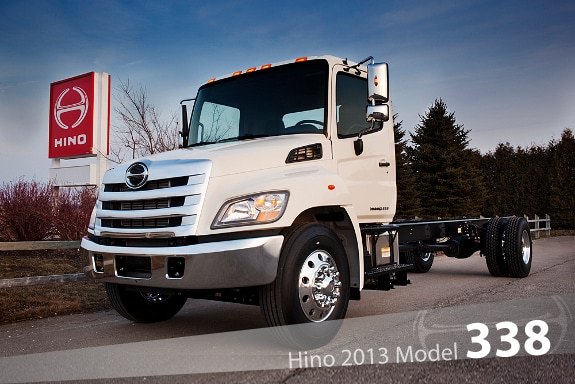 2013 HINO 338 (33,000 LBS GVW)
Our most popular truck, the Hino 338 is strong, reliable and provides excellent fuel economy. For2013, the 338 receives the "High Torque" J-series 7.6L engine, which provides 260 horsepower and 660 ft-lbs of torque. A 12,000 lb. front axle with a 21,000 lb. rear axle provides a GVW rating of 33,000 lbs. making the 338 ideal for a wide range of applications from general freight to specialized applications.
The Hino 338 is offered with an Allison 2500RDS 6-speed automatic transmission with PTO capability. Wheelbases from 187" to 271"* allow you to customize the Hino 338 to suit your needs. The Hino 338 is equipped with hydraulic disc brakes and ABS. Optional rear air suspension, combined with the superb maneuverability, excellent visibility and the many standard features for which Hino trucks are renowned, ensures that the 338 will continue to provide outstanding driver comfort.
Hino offers a "clean chassis" option for the 2013 338 model. For applications that require the outside of the frame rail to be clear behind the cab, the clean chassis is available. The clean chassis configuration is ideal for a beverage body, car carriers, street sweepers and battery carriers.

Side View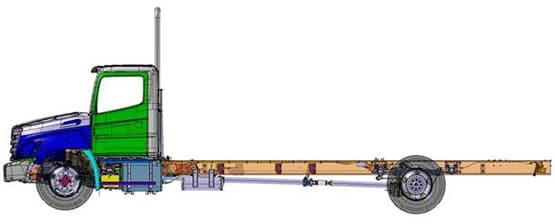 View HINO 338 Inventory